Sue Harker – 20 Jan 2021
A new demonstrator to BWA, Sue Harker will demonstrate open segmented turning. As always, the Zoom link will be sent to members by email.
She has developed an Open Segment Wheel to make creating open segmented items much simpler and she will be showing this in her demo.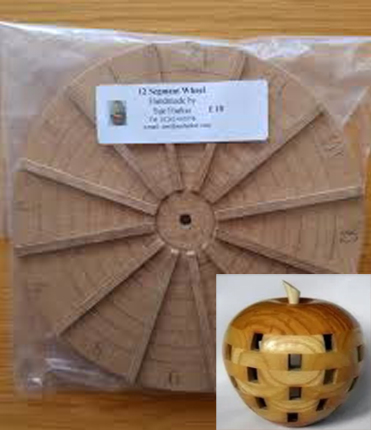 Sue will demonstrate from her workshop in Bridlington on the Yorkshire coast. She will show preparing the timber for segmenting, measuring for the size of segments required and gluing rows of segments. Then how to hold and turn the item, either a bowl or vase.
As well as wheels of various sizes (based on the number of segments), Sue also offers a complete kit of wheel and ready cut segments. The apple shown in the picture is an example of one of the kits available. The kits are available through Sue's website here.
This will be an Interactive Live Demo shared with Kennet Valley Woodturners.